Home / Resources / Product Resources / PennMet 2000
PennMet 2000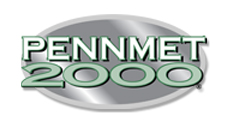 Penn Stainless Products offers a unique product for the machining industry – in stainless steel Round, Square and Hex bars. Our proprietary grades of stainless steel machining bars in 304/L and 316/L are melted to a uniquely controlled chemistry to produce optimal machining characteristics: faster cutting speeds, reduced tool wear, and lower cost parts.


PennMet 2000 – Superior Stainless
Improved Machinability
Consistent Performance from Lot to Lot
Improved Surface Finish
Increased Feeds and Speeds
Superior Chip Control
Longer Tool Life
Machining Operations
Turning
Milling
Drilling
Threading
Forming – HSS
and carbide
Sawing
Parting Off
Improved Machinability: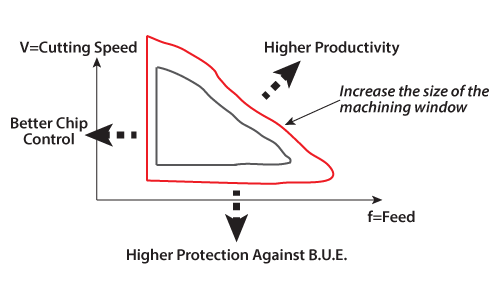 PennMet 2000 – A SPECIAL PROCESS FOR A SPECIAL STEEL QUALITY
Process applied austenitic stainless steel bar resulting in optimal machinability.
Meets all standard specifications requirements of ASTM & ASME for applicable grades.
Ladle metallurgy to control composition, amount, size, shape and distribution of nonmetallic inclusions.
Can machine at higher speeds and feeds – increase size of machining window.
V1000 – Machining test showing cutting speed that gives a tool lifetime of 1000mm drilled length.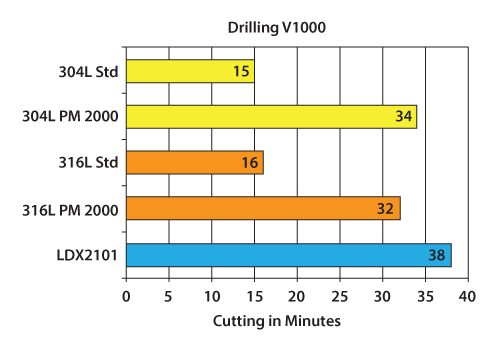 PennMet Treatment
Deoxidation during standard stainless steel melting results in comparatively large Al2O3 inclusions.
Typically more than 1,000,000 inclusions/lb.
These inclusions are very hard. For reference carbide tools are coated with Al2O3 for wear resistance.
PennMet treatment improves the composition, size, shape and distribution of these inclusions.
Benefit of PennMet at Higher Speeds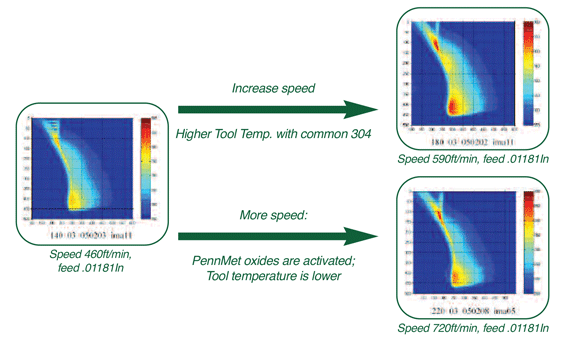 Results of PennMet 304 vs Standard 304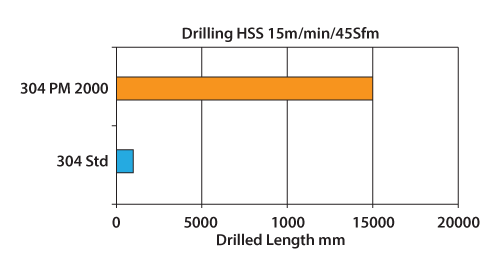 PennMet works for drilling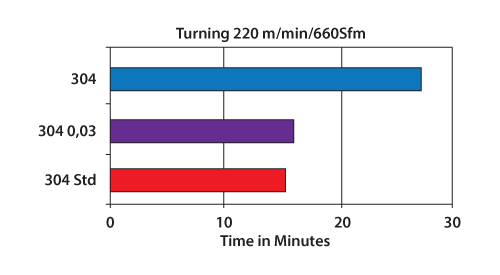 0.030% Sulfur content helps but…Pre-treatment is more important
Problem – Higher tool wear and long production time
Solution – PM 2000 enabled the machines to increase feeds and speeds by 70% to 80% and reduce part wear. The customer saved $1.68 to $14.50 per component and increased overall productivity by 30% to 54%.
Sample Test A Report: Adapter, Rough OD Common 316/316L vs PennMet 316/316L
PENN STAINLESS TEST REPORT – DATE: 7/17/2014
Turning
Rough Outside Diameter
Issued by: DNL
Machine: Mazak Dual Turn 20
Machine #: 12
Test #: 1
Component: Housing
Material:
PennMet 316/316L
Material:
Common 316/316L
Operation: Rough Turn OD
Hardness, hB:
180 – 240
Hardness, hB:
180 – 240
% of increase
Cutting Speed
600
500
83%
RPM
1150
950
83%
Feed/rev.
0.013
0.01
77%
Depth of Cut
0.007
0.035
50%
Length of Cut
7
14
200%
Criterion tool change
Flank
Flank
Machine Cost/Hour
$100.00
$100.00
Cutting time/component (mins)
0.47
1.47
315%
Non cutting time/component (mins)
2
2
No. of components/set of edges
25
12
Tool changing time (mins)
2
2
Total time/component (mins)
2.55
3.64
30%
Machine cost/component
$4.11
$5.79
29%
Total machining cost/component
$4.11
$5.79
29%
Productivity increase %
30%
Savings/component
$1.68
Sample Test B Report: Housing, Rough Turn OD Common 316/316L vs PennMet 316/316L
Penn Stainless Test Report – Date: 7/18/2014
Turning
Outside Diameter
Issued by: DNL
Machine: Okuma LB 25
Machine #2
Test #1
Component: Housing
Material:
PennMet 316/316L
Material:
Common 316/316L
Operation: Rough Turn OD
Hardness, hB:
180 – 240
Hardness, hB:
180 – 240
% of increase

Cutting Speed
450
300
67%
RPM
215
145
67%
Feed/rev.
0.011
0.008
73%
Depth of Cut
0.15
0.1
67%
Length of Cut
10
15
150%
Criterion tool change
Flank
Flank
Machine Cost/Hour
$100.00
$100.00
Cutting time/component (mins)
4.23
12.93
306%
Non cutting time/component (mins)
3
3
No. of components/set of edges
4
2
Tool changing time (mins)
2
2
Total time/component (mins)
7.73
16.93
54%
Machine cost/component
$12.05
$26.55
55%
Productivity increase %
54%
Savings/component
$14.50