Home / Processing Services / Plate & Sheet Processing / Machine Cutting
Machine Cutting
Penn Stainless offers machine cutting as part of our full line of stainless steel processing services. Standard tolerances are +/- 1/32″.
If you have extensive machining requirements, Penn Stainless Products is pleased to offer PRODEC® Plate to enhance machinability and lower total costs. PRODEC® is a special quality stainless steel plate, produced for optimal machinability.
Overview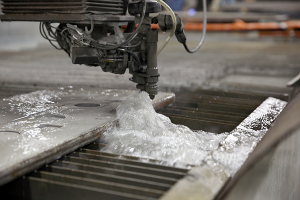 Processing Questions to Consider:
Do you need to add a material allowance for secondary processing?
Do standard tolerances meet your requirements?
Does the material need to be marked with part numbers, job numbers, purchase orders, etc?
Are there special packaging or handling requirements?
Specifications
Machine Cutting Tolerances and Grades
Standard Tolerances
+1/32", -1/32" is typical. Tolerances may vary depending on grade or thickness.
Stainless Steel Grades
Any stainless or nickel alloy