Home / Processing Services / Long Product Processing / Long Product Cutting
Long Product Cutting
Penn Stainless Products utilizes Amada Cutting equipment to achieve the highest quality stainless steel precision cutting with tight tolerances.  The Amada Saw processes round bar up to 26″ diameter, hex bar, square bar, flat bar and all structural material.  Tolerances are dependent on the size of the material.
In addition, we encourage you to consider  PennMet 2000 superior machining bar in combination with our Amada cutting to help lower your overall part costs.  PennMet 2000 product is melted to consistent standards to improve machinability.
PennMet is available in Round Bar, Square Bar, and Hex Bar.
Overview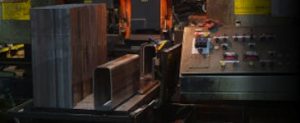 Thickness Range: 1/16″dia. – 26″dia
Items Cut: round bar, flat bar, hex bar, square bar, ornamental tube, tubing and hollow bar, pipe, angles, channels, beams and tees
Standard Tolerance: varies by product
Grades Cut to Size: any stainless or nickel alloy. Tolerance may vary depending on grade or thickness.